Search Engine Optimization – SEO
There's no doubt that wanting to out-rank your competitor on search engines like google, bing, and DuckDuckGo is a no brainer.
But what if you never heard of SEO? Or don't know any SEO tricks that will help you improve the online presence of your online store? If you're missing out on search engine clicks because your store is not ranking then it's obvious that you are missing out on sales as well.
Regardless if you are just getting started with e-commerce or you are looking for proven methods to improve upon your existing website, we have put together this complete search engine optimization guide to help you understand and apply SEO to your business.
Now a days ranking on the second page of Google is not enough, even ranking on positions 5-7 isn't enough. In order to win the digital marketing game, you want to capture the top 3 positions for the keywords that will help you generate sales.
According to a marketing land study impressions ( views) coming from the first position on google were almost double in comparison to the second position.
So what exactly does this mean? it means that if your SEO is not strong enough you won't be getting a lot of traffic and you will also be missing out on a consistent flow of visitors and sales.
Worry not we have created this comprehensive online store SEO guide to help you outrank your competitor.
We recommend that you read this article more than one time in order to fully understand the game of SEO, with that said… let's go ahead and jump onto it.
Advanced Keyword Research & Competitor Analysis
Before you begin implementing any on-site or off-site SEO, you need to first plan, and in SEO we plan by doing keyword research and competitor analysis.
Now don't freak out, we do not need to do this manually, there are great tools out there that will give us an in-depth SEO report for a certain keyword or competitor.
Keyword Research:
There are 3 primary focus areas you want to cover when doing keyword research:
1. Find keywords for your homepage and product pages
When it comes to curating keywords for the most important pages of your website, one should consider search volume, ranking difficulty, and last but not least relevancy.
We recommend that you go for keywords that have high search volume and are relevant for your brand or product.
To find such keywords follow the steps below:
Go to SE Ranking – Click Here To Open SE Ranking
Sign Up by starting a free trial
When logged in, navigate to "Keyword Research" – located at the top of the page, to the right of the logo.
Type in a keyword, in this example, let's type in "Marvel Phone Case".
If you successfully followed the steps below, you should now see the search metrics for that keyword.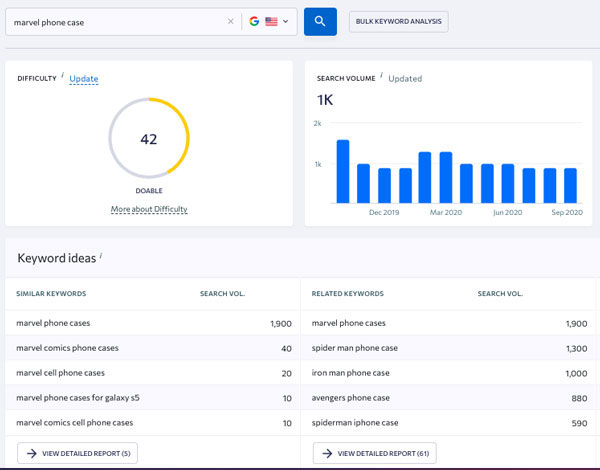 Now that we have our metric, let's go ahead and review it. As we see in the example above we have a ranking difficulty of 42, which is great, the lower the better.
We also see an average search volume for the specific keyword of 1k per month, which is pretty decent.
But it is also important that we look at "Keyword Ideas" and "Related Keywords", these are keywords that relevant to the keyword that we have put in, as you can see some of them have 1300 monthly volumes and are also keyword we can use in our content.
You can get a more detailed view of the related keywords by clicking the "view detailed report button".
With that said this keyword would be great if you were looking to sell marvel phone cases.
2. Avoid having too many similar or identical keywords
Whatever you do, do not use too many identical keywords in your content, this can be a red flag, and google will actually degrade your content for doing this.
When writing SEO content for your online store, do not focus on trying to stuff your article or product pages with the keyword you are trying to rank for, instead write content that is easy for a human to read and understand and is relevant to your target keyword.
3. Curate keyword to be used for blog topics
When doing your research, always keep in mind potential blog topics, the best keyword type for blog topics are "Long-Tail Keywords". In simple terms these are just long phrases that people search for on google, an example would be "the easiest way to build an online store.
Competitor Research
Now that you have successfully conducted keyword research, let's go ahead and move onto doing competitor research.
To do this we recommend you consider the following:
1.What are the main keywords that your competitor is utilizing?
The best way to answer the question above is to take the time to compile a list of keywords that your competitor appears to be utilizing in their SEO strategy.
We recommend that you only analyze your strongest competitors.
To find the keywords that your competition is using in their search strategy head back over to SE Ranking, and follow the steps below.
Login to your SE Ranking account.
From your dashboard navigate to "Competitor Research" – Located next to "Keyword Research" at the blue top navigation.
Type in your competitor's website domain name, in this example, let's use seranking.com.
Now you should see all the metrics for your competitor's search engine metrics both organic and paid search.
After you have successfully followed the steps above you should now see your competitors metrics including their page trust, domain trust, organic keywords, keyword distribution by position, their competitors, where they stand in comparison to their competitors, as well as keywords they pay to be ranked for, and you can also do this by going to Google Adwords.
Before we tell you what to look for in your competitors search analysis, it is important to understand 2 terms in SEO: 
Domain Trust, also known as domain authority.
Page Trust, also known as page authority.
So what exactly do they mean? and why is knowing these terms important?
Domain Trust
Domain trust is a search engine ranking score that ranges from 1-100, a higher number gives you a higher ability to rank in search results. You can build your domain trust by writing relevant content, sharing that content on social channels, and writing guest posts on high domain authority websites like medium, and having a link back to your website.
Page Trust
Page trust is a search engine ranking score that has a range of 1-100, except this score is specific to a single page, not the whole domain. For example, this SEO documentation that you are reading has its own page trust score, separate from the domain, in this case, the domain would be techaxy.com.
You can increase your trust score by taking the same steps that you would to increase your domain score, keep in mind that search engines by default give your homepage the highest page trust score, so when you link to another page from your home page you are letting the search engines know that those pages are also important, and should have a good score.
So the overall lesson here is that by building your domain authority you are also simultaneously building your page authority, and to do a recap, you can this by doing the following:
Guest posting unique content with links back to your website.
Consistently posting on social media websites.
Keeping your website very valuable to all your readers, and give them the best possible experience.
Doing press releases.
If your competitor has a high domain or page score, worry not.
It is still possible for you to rank even with a domain and page score of 1, and we do this by focusing on keywords with low difficulty scores, preferably under 45, you can find the difficulty score for your competitor's keywords by click on "view detailed report" under the Organic Keywords section of the report.
Performing A Technical SEO Audit On Your Website
Now that you have successfully conducted a competitor analysis and keyword research… It's time to do an audit on your website to ensure you are ready to start growing your online presence.
Below are the 2 steps we will be following to identify current problems on our website:
Find and fix problems on your websites, such as broken links, miss-spelling, and missing image alt tags.
Determine and improve your website speed.
Find and Fix Problems In Your Website
To find technical website errors that will have a negative impact on your SEO, we recommend using SE Ranking.
To perform technical analysis on your website go ahead and follow the steps below:
Go to SERanking and login, or sign up for a free trial if you have no yet done so by clicking here.
From your dashboard, at the top of your screen on the blue navigation bar, click on "Tools" and then click on "On-Page SEO Checker".
Go ahead and put in your domain name, this will perform a technical SEO check on your page and give you advice on what to fix and how to fix it.
Determine And Improve Your Website Speed
Once you have found and taken care of the major issues, it's time to focus on a very important factor: website speed. 
No one wants to hang around and wait 10 seconds for a website to load, some websites actually take a few minutes to load… Scary right? So you must be wondering, what exactly is a good website load time?
The answer is 3 seconds.
If your website is not loading at or below 3 seconds, then you are risking losing visitors and search rankings.
To measure the speed of your website you can follow these steps:
Go to Pingdom – Click Here To Open Pingdom
Pick a location in the country that you are in
Type in your website.
Click "Start Test"
Wait a few seconds and you should see the results of the speed test.
On-Site Search Engine Optimization
On-site optimization, in other words, on-page optimization is a very important factor when it comes to ranking your website.
So what exactly is on-site optimization?
It's exactly what it says it is "Optimizations on your website"
Another type of optimization is off-site, this is where you do link building, and get other relevant websites to talk about you and link back to you.
To succeed in on-site optimization there are 8 key targets you need to focus on:
Customer feedback (reviews)
User usability
Mobile responsive design
Social network integrations
Internal links
Website Architecture
Keyword optimization
Structure data snippets
Customer Reviews
Of course, the bread and butter of any online store is credibility, and having reviews for each of the products you're selling, if you can get video reviews, that's even better.
If you don't have any reviews, we recommend handing out your product to someone for free and ask them to give you a review on the product, If they can do a video review, that's a golden ticket for you.
According to the most successful online store platform Shopify, you can increase your online store's purchase conversion rate by up to 76% by implementing customer reviews into your e-commerce store.
Besides giving your brand tons of credibility, and influence to future visitors, having customer reviews actually helps you out-rank your competition on google, why? well, google loves reviews and fresh content.
To pile up reviews for your online store, we recommend having a follow-up email sequence that sends out an email a few days after the customer purchased your product asking them to give you a review in exchange for a discount.
Online Store Usability
Usability is an important ranking factor, and it also makes your potential customers happy and allows them to keep coming back to your store.
So why is usability so important for an online store SEO?
Having a great user experience, such as making it super simple for your visitors to check out, giving them as much possible information about the product, how to use each product, and keeping your colors consistent across the website to bring a uniform customer experience all will a positive result in your e-commerce SEO.
How it really works is that Google wants to always give its searchers the best possible result, and the best possible result is based on the credibility, user experience, and value the website has to offer in correspondence to the end-users' search query.
So if you want to increase your conversion, and your search engine rankings, always have an intention of improving your website's user experience.
There are many ways to do this, below are 3 recommendations to improve your e-commerce store usability:
Get a live chat for your online store, we recommend using Jivo Chat. Having a live chat is known to increase conversion rates and customer return rates.
Invest in a visitor session recording software like Inspectlet, it allows you to playback your visitor's session and gives you a heat map so you can see how they are interacting with your online store.
Get a usability tool like Audio Eye to give a good experience to shoppers with disabilities.
Mobile Responsive Design
Having a mobile responsive design nowadays is a must, and having a mobile design that gives every visitor a synergetic experience is highly recommended.
Did you know that about 33% of users use their phones to go online, and did you also know that 65% of users who visit a website that does not have a good mobile experience, end up going to its competitor websites?
With that said, please don't end up like the many companies that ran into SEO issues with their mobile websites because they had 2 versions of the website instead of a single responsive version that works great on every screen size.
Having 2 versions of a website are known to create duplicate content problems and risk the potential of your website being red-flagged by Google, and other search engines.
Social Network Integrations
Social signals are an important part of your SEO, social signals are very beneficial, not only because social networks have high domain authority, but also because it lets search engines know that you are active around the internet which gives your website more credibility.
A smart and automated way to increase your social media presence and the signal are to have both your shop and your blog integrated with your social networks.
To accomplish this you can use tools like Hootsuite, which allows you to schedule social posts and distribute content to all your social media networks.
If you would like to schedule social media posts for 3 months you can, and it will automatically post to your social media network(s) of choice.
Besides that functionality, it also allows you to pull your blog's content via RSS and have every blog you post on your website automatically get posted to your social networks, allowing you to grow your social media automatically.
With that said, we also recommend that you also use social media as a sales channel for your e-commerce store, you can do this by integrating your store with your social media platforms.
If you are using Shopify, you should you can navigate to the Shopify app store and type in the name of the social media you would like to use a sales channel, and results of plug and play apps should come up.
If you are using WooCommerce, you can go to the WordPress plugin store, and type the name of the social media network that you want to sell on, and plugins that will allow you to do that should come up.
Besides the benefit of SEO, distributing your content and products to different social selling channels will open your doors to new customers.
Internal Link Building
Although you may not have heard this term before, You can probably guess what it is by reading it. Internal links are links from one page on your website to other pages on your website.
Simple enough?…
Well, it can be… but there are certain ways we should apply them, the last thing you want to do is stuff your content with internal links and have google and other search engines think you are up to something suspicious and red flag your website.
The proper way to use internal links besides your navigation is to link to other pages as you talk about its topic.
A good example of the proper usage of internal links is in this article, as you may have noticed when we talk about branding on this doc, we will link the word "branding" to the branding article, the reason we do this is to add value to the content, and help you better understand what we talk about when we talk about it.
Its also important to use external links as well in the same manner, as you have noticed when we reference another website's article we give a link to them.
The goal of using internal links is to add value to not only your content but to your visitors as well.
Website Architecture
Having a good site architecture is an important factor for ranking in search engines.
Site Architecture, also called site structure, allows you to let Google and other search engines know what you want them to see, as well as what's important or not that important.
as we mentioned before, the search engine gives your home page the highest page trust and other links from your home page to other pages in your site a lower page trust score.
So in this part of your SEO success, it is up to you the store owner to decide what pages you want to rank for, and what pages are important to you.
Now, you may be thinking.. does where I place those links matter? well of course it does, if you believe a page is valuable and important you would want the visitor to easily access it.
We recommend you structure your website's link structure in the following order:
Have pages you consider most important in the header of your website.
Have a second group of important links in the body of your home page.
Have pages that you consider least important at the footer of your website
Use internal links to distribute the trust from important pages to other pages.
If you follow the order below, you are setting yourself up for success in SEO.
If you desire to learn more about site structure, we recommend checking this article on site structure optimization on The Hubspot Blog.
Keyword Optimization
As you probably noticed by now, SEO revolves around keyword optimization, the meaning of the word "keyword" can be easily understood by separating the word key and word, now read that again and it will now sound like this "Key Word Optimization", this is the process of optimizing a web page for a certain keyword.
In this specific documentation, our Key Word would be "Search Engine Optimization".
So how do you go about optimizing your web page for that important word?
You can do this, by applying the following strategy:
Pick a phrase that includes your keyword to write about.
Write valuable content for the reader around that keyword word phrase.
Link to other valuable content outside your website and inside your website that relates to the topic and the keyword
Get other relevant and credible websites to reference your content using that keyword or phrase.
Structure Data Snippets:
Last but not least, let's talk about structured data and why it's important. Structure Data is how search engine crawlers ( bots sent from search engines that scan your content ) are told to display your page in the search results.
If you ever googled a product and saw review stars in the search results, that's because they have structure data set up to tell google to display the reviews for that specific product.
So why is this so important?
Telling search engines to display more information about your product, gives the google searcher more information and value about the product, making it easier for them to make a decision.
Having structured data adds value to both the searcher and your online store as well, how so? Well like we have previously mentioned, user experience and how a user engages on your website is a ranking factor for search engines.
Search engines want to provide the best possible user experience to their searchers.
By giving the searcher enough information to make a decision on whether the product is right or not for them will help stray away searchers that are not interested in the product and will result in them spending more time on your website.
It doesn't stop there…
See the more interested and engaging visitors clicks our link on the search result, the more likely the algorithm is to show our website to more engaging visitors, and the less likely we are to get uninterested visitors.
To implement structure data into your e-commerce store we recommend that you search for "Structured Data" in your e-commerce platform app/plugin store.
Testing & Measurements
Before, moving to this step, we recommend that you complete the previous steps.
The best way to succeed in anything online or offline is to capitalize on what's working and remove what's not working.
To successfully do this in SEO, we will need to put a strategy in place.
You should:
Set up conversion goals in google analytics, we recommend using Google's tag manager.
Utilize Google Analytics to see what keywords are performing the best.
Use Google AdWords, pay per click (PPC) platform, to run a search campaign to find out what keywords convert best, so you can add that to your SEO strategy.
Add the keywords you want to track ranking for on SE Ranking.
Change your meta title and descriptions occasionally to optimize for click-through.
A/B test elements on your pages such as titles, button colors, and more to optimize the incoming traffic to increase conversions.
It is important to have a strong testing ground to allow you to consistently capitalize on what's converting best, which will ultimately allow you to scale your sales to the moon.
Blogging
Blogging is a critical part of your online store SEO strategy.
We mentioned earlier in this article how important keyword research is and how you should optimize your content for one single Key Word, which brings us to this next point.
Since you should only optimize one page for one main focus keyword, it is pretty obvious that tons of keywords that could bring in more sales won't make it to a page of your site.
The best way to create opportunities for new keywords to shine is via blogging.
With a blog, you have the ability to optimize keywords that aren't on the main pages of your site by creating an informational blog around it.
Just like your other pages on your website, it is important that your blogs are of quality and easy for readers to read.
Link Building
Link building is the process of building a network of links from other sites back to your site, as well as links from your site to other pages on your site and other sites.
To help you better understand the process of link building, well go ahead and explain the 2 types of link building.
Backlinks
Backlinks are links from other websites back to your website.
Although this is a critical ranking factor, it is important to know how to properly choose your backlinks.
Having the wrong backlink can hurt you, not help you.
An example of a good backlink would be if you are selling dog toys and you get backlinks back from a dog blog that has a good domain authority.
The reason that's a good backlink is that the blog giving you a backlink is relevant to your niche.
It doesn't stop there though…
There are 2 common types of backlinks
Picture Backlink
Text Backlink
The most powerful type of backlink would be the text backlink, for example, if that dog blog created a backlink back to you, and the link text is "toys for dogs".
That tells the search engines that when someone is linking back to you, they are advising your website for people that could use "toys for dogs", and this will help you rank for that keyword.
Picture backlinks on the other hand have no text, but it is important that if they are linking back to you via a picture, that the picture's alt text contains your keyword, in this example the phrase "toys for dogs".
The alt text attribute in your images, allow search engines to understand what the picture is about.
Internal And Outbound Link Building
As we mentioned previously in this article, internal link building is critical for your SEO strategy, because it adds value to the reader and it guides them in the proper direction to answer a question they might have about a certain phrase or word in your content.
Internal link building is the process of having links to other pages on your website that are relevant to what you're talking about.
You don't always want to only have links to your own website, it's important to also have outbound links, links to other websites to better explain a word or phrase to your reader.
In this article, for example, we previously created an outbound link to a credible source, the link phrase was "picture alt text", and we created an outbound link to an article that's all about image alt texts on Hubspot.
This adds value to you and can help you understand the meaning and how to use an image alt text.
The same way we used an outbound link, you can use an internal link, a link to another page on your website, be it a blog or page, as long as it's relevant and adds value to the reader, you are on the right track.
Recommended SEO Tools
SEO tools are pretty helpful to create success in SEO, whether you are doing this with a team or solo, the right SEO tools help you measure, optimize, and scale your online store, and it can be pretty hard to create long-lasting success without them.
Below is our most recommended tools that we're mentioned in this article, and some that we're not mentioned: